Governor Nyesom Wike of Rivers State has urged the people of Edo State to reject anyone presented by the former governor of the state, Adams Oshiomhole, saying godfatherism should not be allowed in the state.
Wike, who is Chairman of the PDP National Campaign Council for Edo State Governorship Election said this at the inauguration of the re-election campaign for Edo State Governor, Godwin Obaseki on Saturday, July 25, 2020.
Speaking at the Samuel Ogbemudia Stadium, Benin City, Wike said the South-South region belongs to the PDP, adding that nobody would be allowed to rig the September 19 governorship election in the state.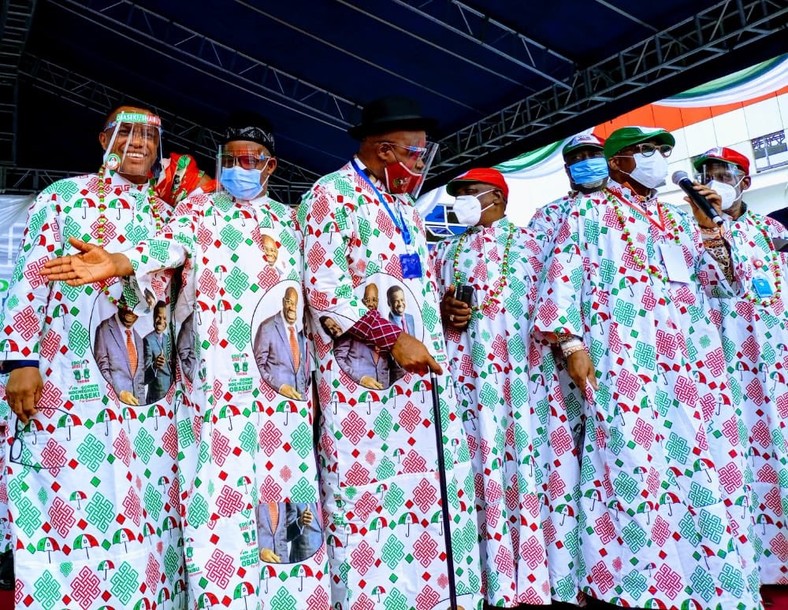 PDP campaign flagged off in Edo on Saturday, July 25, 2020
He said, "Former APC National Chairman, Adams Oshiomhole, is making a U-turn to lick his vomit by presenting a candidate he earlier rejected and castigated. Today, we are here to tell the people of Edo State that they should not be afraid because nobody can rig the forthcoming election.
"Today is the end of godfatherism in Edo State. I want to thank Governor Godwin Obaseki for refusing to dance to the tune of godfatherism.
"Four years ago, Adams Oshiomhole said he cannot trust the APC governorship candidate that he was rusticated from school.
"Today, Oshiomhole is coming back to present the same person to Edo people. He thinks Edo people are fools. I challenge Edo people not to vote any person presented to them by Oshiomhole."
Also speaking at the rally, Sokoto State Governor, Aminu Tambuwal corroborated Wike's remark, saying Edo people need to reject Oshiomhole and his tendency to lord himself over the state.
"He (Oshiomhole) was all over the place in the past, condemning godfatherism, but now wants to become a godfather in Edo," he said.
Tambuwal also called on the Chairman, Independent National Electoral Commission, Prof Mahmoud Yakubu, to ensure the September 19 governorship election in the state is free and fair.